Press release
6/27/2012 12:00 AM CET
Skanska Property Hungary had three momentums to celebrate on 26 June. Besides the global celebration of Skanska's 125th anniversary, the Budapest office also looked back on the past 25 years in Hungary, and topped out Green House.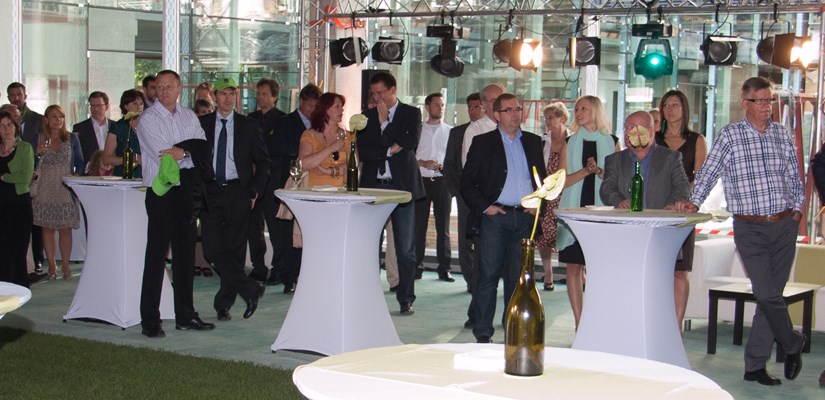 Over 150 representatives of the real estate community – architects, investors, agents, business partners, and future tenants of Green House ABB and AVIS - joined the Skanska Property Hungary team on Tuesday's special event.
Keynote speakers talked about Skanska Property Hungary's first quarter of a century with great appreciation. Nicklas Lindberg (Business Unit President, Skanska Commercial Development Europe) highlighted Hungary's significance within the Central and Eastern European region, Anna Boda (Counselor, Deputy Head of Mission, Embassy of Sweden) pointed out Skanska Property Hungary's defining role in sustainability initiatives of the Hungarian Swedish community, Dr. Tamás Szentes (Deputy Mayor of Budapest) reflected on our journey to deep green from the perspective of the Hungarian capital and its 13th district. Managing Director Grzegorz Strutynski introduced a unique portfolio movie specially created for the event, showing architectural details of all Skanska projects built between 1987 and 2012, Green House (to be completed in December 2012), and Nordic Light (planned to be completed in 2014).
During the last quarter of the century Skanska Property Hungary developed 122,200 square meters of commercial and retail space in the greater Budapest area. The projects included the iconic East-West Business Center, West End Business Center, Soroksár Retail Park, Budakalász Retail Park, Science Park, Light Corner and Népliget Center. The ongoing office development is Green House, Hungary's first LEED Platinum pre-certified building. It will add 17,800 square meters to our portfolio of green buildings. The next project in the pipeline, Nordic Light, will increase our offer with another 26,000 square meters of category A, energy efficient office space.
Green House reached an important milestone within the project lifecycle in June: the building envelope is closed; the structure of the facade is complete; mechanical, electrical and internal works are ongoing. The majority of the building is already being fitted out with the specific needs of its future tenants in mind.
33,000 tons of reinforced concrete and 800 tons of steel structure have been built in until now. The façade is comprised of 800 elements and 2,000 square meters of curtain wall, using a total of 4,200 square meters of glass and 5,600 square meters of ceramic tiles. If we look at the most important, human perspective: 1,200 people have put in 200,000 work hours into the development of the project.
The special event - with exclusive program elements such as an Eco-Design green fashion show - celebrated Skanska Property Hungary's achievements, and reconfirmed our dedication to be the modern and innovative developer that builds what society needs for decades to come.