Press release
8/18/2023 10:00 AM CET
Cofidis Hungary, one of the main players in Hungary's consumer credit market has chosen first phase of H2Offices as their new headquarters. The company will occupy almost 3,600 sq m of office and retail space designed in accordance with ESG standards, equipped with eco-friendly solutions and perfect conditions for business development. The transaction process was facilitated by the international commercial real estate services and investment consultancy company Colliers.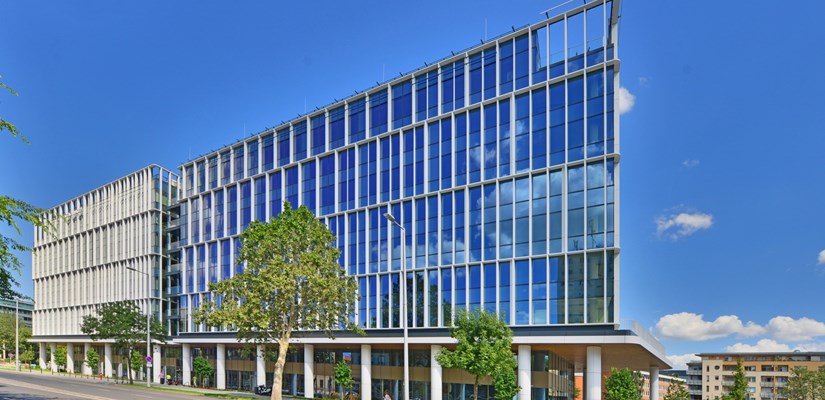 Cofidis has been operating in Hungary since 2005, as a subsidiary of the French Crédit Mutuel, which is one of the most influential banking institutions in Europe. Cofidis is represented in nine countries all across the continent with 5,000 employees. Tenant's new space at H2Offices will encompass 3,600 sq m, including office space with an amazing terrace, as well as retail area to accommodate employees and customers, moving in Q2 2024. The tenant has chosen Skanska building for its operations already for second time, their current headquarters being located in Nordic Light Offices.
"A tenant who gives us trust and confidence and chooses our development again is always the best proof of recognition. We are immensely honored by decision of Cofidis and I am sure that our partner's employees will simply enjoy spending their time at H2Offices, having at their disposal great amenities and an environment built with people's wellbeing in mind." - said Amarilla Cseke, Leasing & Asset Manager of Skanska's commercial development unit in Hungary.
"In connection with our lease contract expiring in 2024, as we regularly do before the end of such cycle, we examined our company's operational and employer aspects regarding our headquarters. We also asked our colleagues' opinion in a detailed questionnaire, and then together with our professional partners, the analytical and planning team of Colliers and ReSearch Consultancy, we evaluated our experiences. I am convinced, that thanks to thorough preparations, we were able to conclude the best possible agreement, which will take us to the next level and our colleagues will particularly benefit from the working environment that will be created in H2Offices complex, being the flagship of ESG initiatives." – said Árpád Szendrei, Head of HR and Legal at Cofidis Hungary.
Ideally located in the middle of Váci Office Corridor, H2Offices offers exceptional connectivity and convenience. The location ensures easy access to all means of public transportation, enabling swift and hassle-free commutes. The recently completed first phase provides 27,000 sq m of ESG-compliant space, making it an ideal choice for its residents.
"As Cofidis has experienced the immense change in the work structure as to how the home environment is competing with the office-based working recently, not to mention the emphasis on the ESG features, Cofidis needed a brand new office that can fulfil these requirements. For this, we, at Colliers, gathered our respective departments to utilize our extensive knowledge for the project. This way we could provide a whole complex service which included thorough workplace analysis, design services, transaction and project management services. All our departments working together as a team guaranteed that Cofidis found their perfect fit. Our custom 360-degree service was crafted to assist every phase of the office space search, ensuring both business requirements and sustainability efforts, including hybrid work setups. Collaborating with Cofidis and Skanska on this endeavour is an absolute pleasure." – added Miklós Ecsődi, Director, Head of Occupier Services of Colliers Hungary.
H2Offices boasts an impressive range of facilities, including green terraces and a biodiverse garden where employees and neighbors are able relax and unwind, bike and e-car stations, and a rooftop running track with stunning views of the city. The building prioritizes energy efficiency, resulting in lower operational costs and making it an eco-friendly option that is highly regarded.
"During the process leading up to the selection of the new office location, we discovered that recent years - as in most companies, including ours – have significantly reshaped office usage patterns. With the spread of home office and hybrid working, we see that the "team experience" has become a very important aspect, as well as separate workstations that are more similar to our homes and support focused work. At the new location, we are consciously seeking to strengthen the experience of "belonging to a team" by creating spaces that support community togetherness and joint creative work. This also activates going to office and the power inherent in our community!" - Árpád Szendrei added.
The office development obtained WELL v2 Core & Shell pre-certification, achieved LEED Core and Shell Platinum version 4 certification with record score in Hungary, as well as Access4You Gold certification. Skanska is also committed to achieve WELL Health & Safety certification for the building. Various solutions were implemented to ensure the wellbeing and comfort of building users, including good quality indoor air, noise-reduced workspaces, warm and friendly lighting, natural materials, easily accessible recreational facilities, and a range of services.
H2Offices is a three-building office complex, that will offer a total of 67,000 sq m of office space on Budapest office market and is created to foster the connection with nature. The designers of the project are the Danish studio Arrow Architects and the Hungarian Studio IN-EX.