Press release
7/25/2023 9:00 AM CET
Skanska secured MBH Gondoskodás Health and MBH Gondoskodás Pension Funds as new tenants of the first phase of H2Offices. The tenants will benefit from a diverse and sustainable environment in the heart of Budapest, leveraging the building's innovative facilities to enhance their operations. The tenants were represented by NAI Hungary CELand and will move to the new premises in the fourth quarter of this year.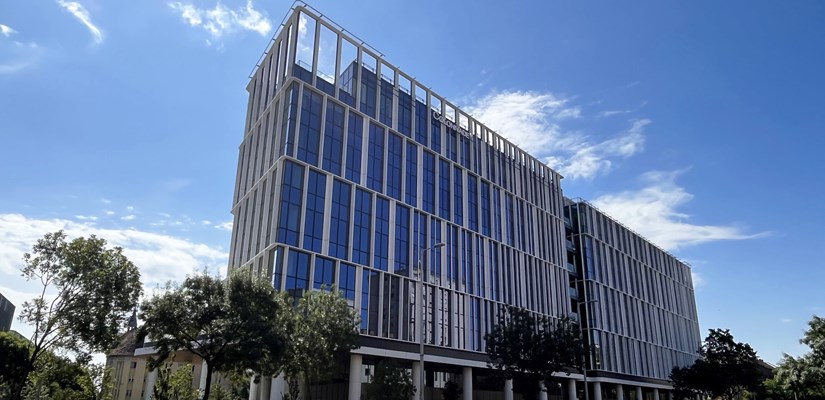 MHB Gondoskodás Funds stands as two of Hungary's leading pension and health funds, with a long history on the market and a solid membership base. The office complex will provide the tenants with a total of 1,064 sq m of space, including office and retail space, moving in from the fourth quarter of 2023.
"We welcome MBH Health and Pension Funds in the vibrant community of H2Offices and we are confident that they will greatly benefit from sustainable and innovative features of the building, as well as the unique work environment. Their decision to secure both office and retail space further underscores the multifaceted value that our prime development offers." - said Amarilla Cseke, Leasing & Asset Manager of Skanska's commercial development unit in Hungary.
"We are excited to move into H2Offices, a development that is, truly as future-oriented as our Fund. It's not just about its prime location and excellent accessibility, but also the essence of modernity and sustainability. This move is a significant step in elevating our customer experience and showing the premium level of care we provide, and we are thrilled to be part of this journey." - emphasized Lukács-Szalkay Petra, Managing Director of MBH Gondoskodás Pension Fund.
As Dr. Katalin Nagyiványiné Fodor, Managing Director of MBH Gondoskodás Health Fund, said: "Choosing H2Offices was a decision rooted in our commitment to sustainability and the wellbeing of our member customers and employees alike. The building's state-of-the-art green features and focus on creating a health-centric environment align seamlessly with our core values."
An increasing number of organizations are selecting H2Offices as their new operational hub. Tenants value the prime location, high-tech facilities, energy-efficient design, ESG-aligned practices, and the warm natural environment that the building offers.
Experts from NAI Hungary CELand have been responsible for consulting the Funds during the transaction. "We are really honored to have the tenant's confidence in us to represent them during the leasing process and we wish both Skanska and MBH Gondoskodás a successful co-operation going forward!" – said Erika Lóska, Head of Leasing Services and Partner of NAI Hungary CELand.
H2Offices has received WELL v2 Core & Shell pre-certification and recently achieved LEED Core & Shell version 4 certification with the highest score in Hungary to date. The building also obtained Access4You Gold certification, indicating an inclusive and accessible environment.
H2Offices represents a unique combination of human- and nature-centered design, fostering connection with nature and offering a remarkable array of amenities. Building users and neighbors can relax in landscaped and cozy open garden with a pond. A rooftop running track offers stunning views over the city. Latest technology solutions were implemented to ensure the physical and mental comfort of tenants. The office building prioritizes energy efficiency, resulting in lower operational costs and making it an eco-friendly option that is highly regarded. Tenants of H2Offices can expect a modern and sustainable workspace, that promotes their wellbeing and productivity.