Press release
6/9/2023 9:30 AM CET
The first phase of Skanska's H2Offices has set an impressive environmental benchmark, earning a Platinum Leadership in Energy and Environmental Design (LEED) Core and Shell version 4 certification with 84 points, which is currently the highest score in Hungary. This achievement sets a new standard in sustainable office space development and confirms, once again, Skanska's commitment to sustainability and care for the environment. Based on its accessibility features, the building also obtained the highest rating of Access4You certification, meaning Gold level.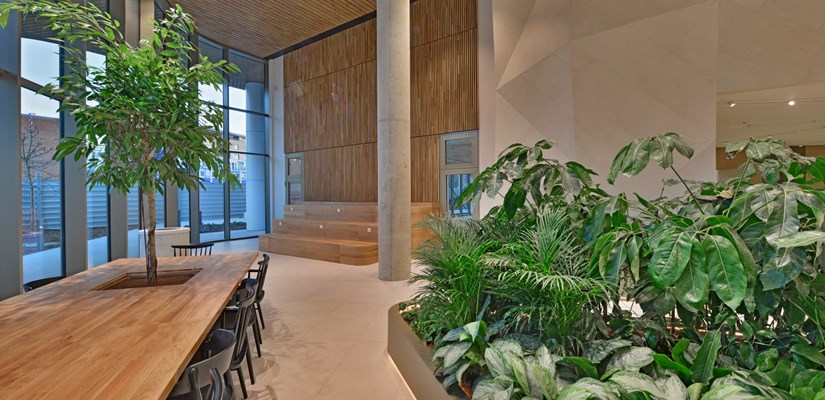 Securing the LEED Platinum certification with a standout score of 84 points, H2Offices has established itself as the highest-ranking environmental-friendly office development in Hungary. This noteworthy accomplishment is a testimony to its effective deployment of solutions that have resulted significant outcomes in sustainable site development, conservation of water, energy efficiency, selection of materials, and the quality of the indoor environment.
András Ábrahám, Project Director of Skanska's commercial development business unit in Hungary, stated: "We shape sustainable places to support healthy living beyond our lifetime, and this milestone underscores our commitment towards such aspiration. Achieving the highest LEED Core and Shell version 4 certification score in Hungary is a proof of the thoughtful design and construction of H2Offices and of our overall mission to build for a better society."
The development earned additional recognitions for features such as light pollution reduction strategy, significant reduction in irrigation (98%) for outdoor water use, and innovative all-LED design which includes no mercury. The first phase, now completed, introduces 27,000 sqm of space created in accordance to ESG principles.
H2Offices is designed to optimize energy efficiency, contributing to reduced operational costs. The first phase boasts an array of sustainability-enhancing features, including 40% water savings, an annual reduction of 540 tons of carbon emissions (equivalent to 2,685 round airplane trips from Budapest to Warsaw), as well as a 37% decrease in energy consumption.
In addition to environmental solutions, accessibility is also an essential element and vital feature of the project, with H2Offices Skanska has created a truly inclusive environment and received the prestigious Gold certification of Access4You, which evaluates accessibility features of built environment. The office building features level entryways from both sides and is equipped with motion-activated automatic doors, a motor-operated single-leaf door, and an intercom at each entrance. Inside, the building features tactile paving signs, an induction loop and online sign language service at reception to support hearing impaired visitors, as well as barrier-free toilets on every floor.
"We are very proud that H2Offices has been granted with Access4You Gold certification. This accomplishment shows that the building supports diverse workforce to fulfill their potential," said András Ábrahám. "Our commitment to create a friendly and welcoming environment that gives a sense of freedom for all people is persistent."
Not just a place to work
These two top-grade certifications show, that tenants' wellbeing is in the forefront of Skanska's focus: excellent indoor air quality, plenty of natural light, balanced temperature and humidity. Accessibility makes sure that people can maximize their potential at everyday life, should it be work or after hours activities. All these elements, combined with the use of natural materials, contribute to a welcoming and comfortable environment. Furthermore, water savings and reduction in energy consumption result in lower operational costs and provide financial benefit to tenants through lower utility bills, all while contributing to a greener planet and resilient world.
H2Offices provides space to relax not only for the people working in it, but also for the residents. Everyone is welcomed into an open, landscaped garden with greenery and a pond, creating a relaxing and rejuvenating environment. This way it contributes to the creation of a lively community and a friendlier neighborhood.