Press release
5/4/2023 10:00 AM CET
Colonnade Insurance S.A. Hungarian Branch Office, a Luxembourg based non-life insurance company owned by Fairfax insurance business has recently relocated its operations into the first building of Skanska's H2Offices complex, benefitting of the features provided by the state-of-the-art development in nearly 1,500 sq m.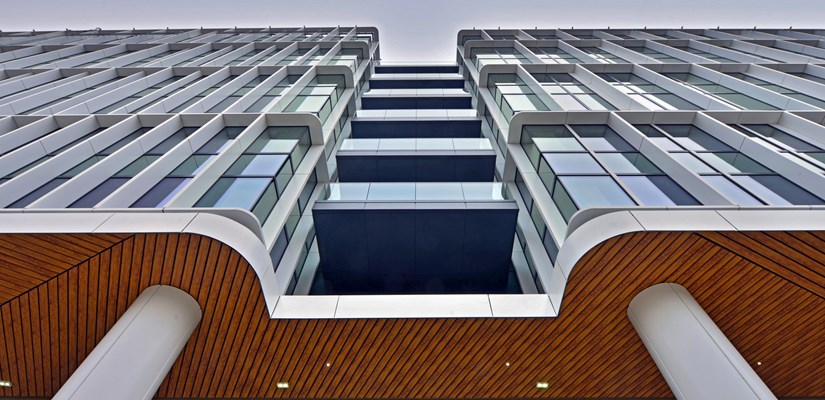 Another tenant has committed to H2Offices, Skanska's 10th project in Budapest. Colonnade, an insurance provider active across the CEE Region and owned by the Canadian Fairfax Financial Holding is known for its exceptional customer service and user-friendly insurance packages. The company occupies nearly 1,500 sq m office space along with a terrace, storage and parking spaces. The first phase of H2Offices has been delivered recently, providing over 27,000 sq m leasable area with natural materials, lots of light and surrounded by green environment, as well as amenities that contribute to the well-being of occupants.
"The move to the new headquarters is a significant milestone in the life of Colonnade Insurance S.A. Hungarian Branch Office. The new office was carefully selected for a number of different reasons: in addition to providing an inspiring working environment with modern, comfortable and spacious common areas, sustainability was also a key priority. We were looking for an office with green solutions that would reduce the environmental impact of our operations and reduce Colonnade's ecological footprint. That's how we found H2Offices and its developer Skanska, and interior design firm Value4Real. " – said Csaba Kéringer, General Manager of Colonnade Insurance S.A. Branch Office in Hungary.
H2Offices will be an office complex consisting of three buildings, providing 67,000 sq m of gross leasable area. H2Offices will offer a 5,000 sq m open community garden with lakes upon completion of the whole complex. The building is designed and built to support health and well-being of users and with the ambition to obtain the leading international certificates in terms of sustainability (LEED) and user-friendliness and inclusiveness (WELL, WELL Health-Safety Rating, Access4You certifications).
"We were inspired by how closely aligned our values and commitment to ESG principles are and how Colonnade appreciated the human- and nature-centered design of our building. We have no doubt that the company's team will thrive within the space that our H2Offices offers." - said Amarilla Cseke, Leasing & Asset Manager of Skanska commercial development unit in Hungary.
The office complex has been built along the principles of traditional Scandinavian design and in line with ESG criteria, inspired by the heritage of the location and including tools that reduce environmental impact. The state-of-the-art solutions ensure the physical and mental comfort of those who spend time inside the office building: good quality indoor air, sound comfort, warm, friendly lighting, natural materials and easily accessible recreational facilities and a range of services await tenants.
Besides of sustainability and well-being features there is bicycle storage, changing rooms and showers, as well as electric charging stations, which encourage the use of environmentally friendly transport options, thus reducing the ecological footprint of the users.
Throughout the leasing process of H2Offices, Colonnade was represented by Property Support. "We are proud that we supported Colonnade in creating a workspace that prioritizes employee well-being, elegance and innovation. By providing an inspiring work environment, efficient and spacious community spaces, integrating high technical standards and ESG principles, H2Offices building is a perfect match. Our collaboration with the tenant has been both efficient and productive. We offered a comprehensive suite of services, placing particular emphasis on our project management solutions." - said János Szarka, Managing Director of Property Solutions.
Interior design concept of Colonnade office premises was created taking into account all requirements of a comfortable and sustainable working environment. The interior designer Value4Real equipped all workspaces with adjustable lighting, which works integrated with the audio-visual system in the special common rooms. The tempering and ventilation of the spaces works maximally in the spirit of energy efficiency, taking into account office space usage habits. The primary consideration regarding surfaces and furniture was the use of recycled and recyclable materials. The acoustic wall coverings are made from recycled PET bottles, and the carpet floor is largely recycled and, in addition to being a certified carbon-neutral product, it also provides increased acoustic comfort.