Press release
1/25/2023 10:00 AM CET
Orbico Hungary decided to move to the first phase of H2Offices complex. The new tenant will occupy 1,253 sqm office space in the building.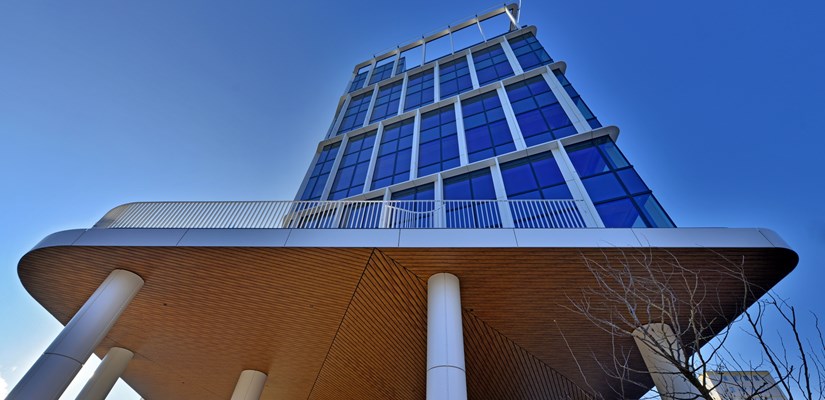 The international distribution and logistics provider, Orbico Hungary has signed a long term lease agreement for 1,253 sq m office space with a nice 64 sq m terrace in H2Offices, moving in the second quarter of 2023. Orbico Hungary is part of the largest European full-service distributor and supply chain management company Orbico Group, supporting its client's businesses by designing and implementing industry-leading solutions.
"We are very happy to welcome our new tenant at H2Offices and are pleased that our office project has been appreciated by yet another partner. We are sure that Orbico team will thrive here, our office building was designed and developed with ESG principles and focus on users in mind, with high emphasis on connection to nature."- highlighted Amarilla Cseke, Leasing and Asset Manager of Skanska's commercial development business unit in Hungary.
Skanska has started the development of the first phase of H2Offices in 2020 in the heart of the Váci Office Corridor and delivered it at the end of 2022. H2Offices creates an environment that suits the changed expectations towards offices, providing comfortable, healthy and flexible workplace serving creativity and cooperation, as well as offering generous use of greenery at one of the busiest points of Budapest. Large multipurpose garden with a lake, green terraces at higher floors and a rooftop running track with a breathtaking view over the city – all offer a variety of recreational experience, in the meantime serving as a meeting hub and a place for community life as well, making the building an integral part of the life of its neighborhood.
"Moving a company to another location is not an easy thing to do, but we are ready to make this step to provide all the needed conditions for our team be able to work exceptionally. Already the concept of H2Offices impressed us, and seeing the sustainability features, the energy efficient solutions and the human-centered design made us firm in our decision."- said Zoltán Becze, General Manager of Orbico Hungary Ltd.
Experts from Newmark VLK Hungary have been responsible for consulting Orbico Hungary during the leasing process. "We have searched for a "state of the art" facility for our client and we have found it at H2Offices. It seems to be a perfect match, and it is always fulfilling to find such a great office space solution for our clients." – said Valter Kalaus, Managing Director of Newmark VLK Hungary.
H2Offices complex will ultimately provide approximately 67,000 sq m GLA after the completion of all its three phases. The name choice honors the history of the location as the complex is being developed on the former site of Budapest Waterworks. The first phase consists of eight floors and three underground parking levels and covers almost 27,000 sq m of leasable area. Designed to obtain WELL and LEED certifications, the project stands out for its sustainable solutions, enhancing connection with nature and applying intelligent innovative functions.