Press release
4/5/2022 11:00 AM CET
Skanska's HQ office in Hungary, located in the Nordic Light office complex, received WELL Health & Safety rating. This prestigious certification is awarded to office spaces with the highest safety parameters, reducing the risk of infections, and enabling the creation of healthy and safe work environment.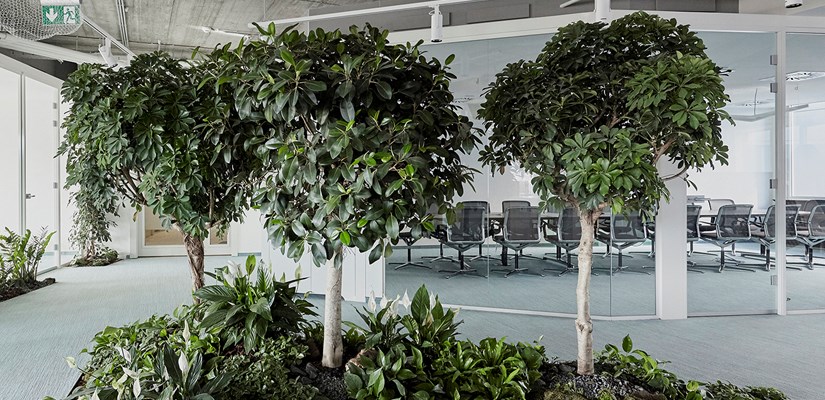 WELL Health-Safety certification is an evidence-based third-party verified rating for all building and space types, designed to help owners and operators to prepare safer spaces for their tenants, visitors and other stakeholders going back to the offices in a post-pandemic environment. Skanska was the first developer in the Europe that has achieved WELL Health-Safety rating for eight buildings in Poland, Romania and the Czech Republic, and intends to pursue the certification for all its new projects. Taking a step further, the company now has obtained the WELL Health & Safety Rating for Facility Operations and Management for its own headquarters across CEE countries, including the Hungarian one located in in Nordic Light office complex.
Skanska's office in Budapest consists of 480 sqm, its interior design was created by the Hungarian architecture studio LAB5 in cooperation with the developer, with special focus on the well-being of office users, functionality and greenery, based on Skanska's vision of sustainable and future-proof office environment. Inspired by developer's Swedish roots, the office provides a natural and relaxing atmosphere with integration of plants and trees as space dividers and quality sustainable materials.
"During the headquarters' certification process, various categories have been evaluated such as cleaning and sanitation, emergency preparedness programs, health service resources, air and water quality management, stakeholder engagement and communication and innovation. Our office in Budapest achieved remarkable result for 18 features in all abovementioned categories, developing improved cleaning practices and procedures for reduced surface contact, monitoring and treating air and water quality, and securing a plan for healthy re-entry to office area. Office work is crucial in securing business continuity, teamwork and collaboration give a boost to innovation - and they rather happen in person. But it is also important to have workspaces that are safe to use, and this new certification is a proof for the safety of our people, every day." - said András Schmidt, Sustainability Manager of Skanska's commercial development business unit in Hungary.
The aim of WELL Health & Safety Rating is to prioritize long-term health and safety of employees, visitors and stakeholders and act as a validation that the certified spaces are totally safe for the occupiers. The certificate is awarded to office spaces with the highest safety parameter.