Press release
3/24/2022 12:00 PM CET
Skanska has launched a design tender for the creation of an outdoor piece of art, which will be placed in the publicly available green garden near the first building of H2Offices complex. Four design teams participate in the invitation based tender. The winning project selected by the professional jury is scheduled to be implemented in Q4 2022, simultaneously with the handover of the first phase of the office complex.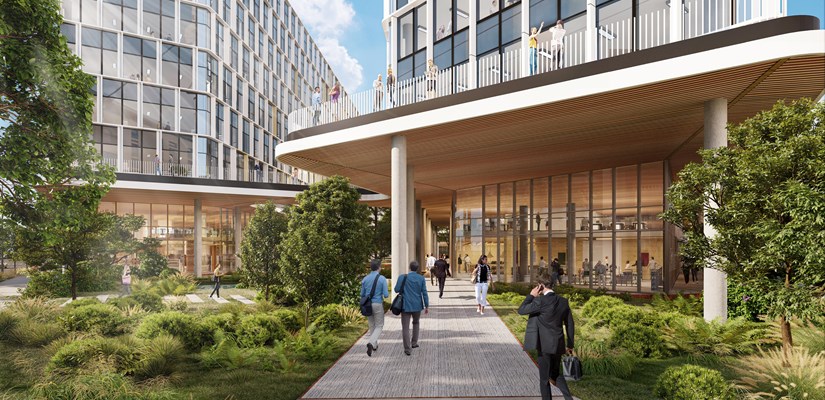 Skanska has launched an invitational tender for the design of a public artwork. The goal is to create an installation that the local community will benefit from and enrich the urban space of the Váci office corridor. With each and every project, Skanska's aim is to add long lasting value to the local areas of the projects by creating welcoming environments that accommodate people's needs and bring them together. The following designers and teams were invited to the tender: S39 Hybrid Design, Andrea Hegedűs Design, Medence Csoport, Paradigma Ariadné.
The artwork will be located in the green public garden of Skanska's tenth Hungarian office project, the H2Offices complex, at the intersection of Váci and Dózsa György roads, and it is expected to be unveiled in Q4 2022.
"H2Offices will be in many ways an innovative and unique office complex. Its placemaking, the large green garden will be available to the general public and we intend to create a visually exciting, iconic and functional installation that everyone can relate to. We are looking for concepts that are representative for our project, emphasizing as much as possible the connection to the water and nature in general and having the potential to become valuable landmarks of Budapest." - said András Abraham, Project Director of Skanska's commercial development business unit in Hungary.
The applications will be evaluated by a professional jury, consisting of 3 people: member of Hungarian Design Council and editor-in-chief of Elle Decoration magazine Judit Osvárt, cultural officer of Budapest's 13th district Mayor's Office Gábor Radó, and Project Director of Skanska's commercial development business unit in Hungary András Ábrahám. The announcement of the results is planned to take place in May, after which the creation and implementation of the selected work will begin.