Press release
11/9/2021 10:00 AM CET
Nordic Light Trio, Skanska's development in the heart of the Váci office hub is the first office building for Skanska in Hungary that was granted the demanding WELL v1 Core & Shell Gold certification. The development is also among the first ones in Hungary that reached such achievement. Nordic Light Trio obtained WELL after receiving LEED Gold environmental certification and the Access4you Gold accessibility certification.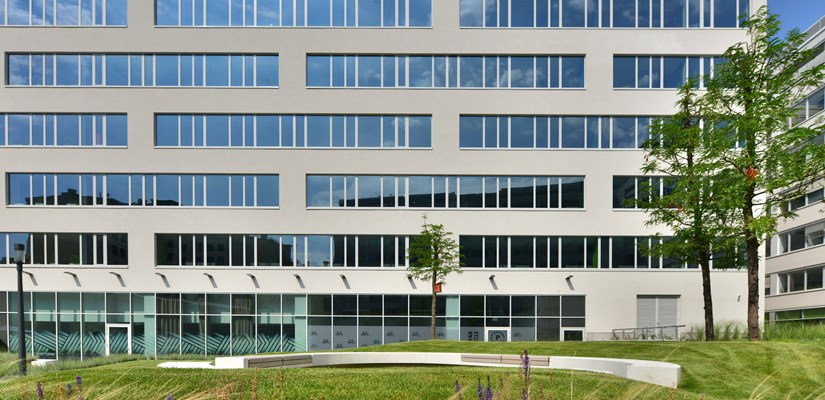 Nordic Light Trio is among the first buildings to receive WELL certification in Hungary. This milestone is another proof that Nordic Light Trio is one of the most sustainable, healthy and inclusive office buildings in the country. WELL-certified buildings have a positive impact on employees' performance and therefore on the overall performance of their employers as well, retaining their value for an extended period of time and being truly futureproof investments.
The pandemic reaffirmed the need for healthy workplaces built with great care. In Nordic Light Trio Skanska created bright, comfortable and flexible working areas that benefit the health of the office users. The carefully designed building makes easy to implement health and safety measures which affect how employees feel when coming back to their workplaces.
The building has a highly effective ventilation and air filtration system with microbe and mold control, water quality is also constantly controlled and monitored. Excellent lighting conditions have been created in the workplaces thanks to the electric light glare control. The offices are designed to provide a pleasant temperature all year round and create a calm, noise-free environment for work. Skanska also made sure to use carefully selected quality materials during the construction.
"We are very proud that Nordic Light Trio is among the first WELL-certified buildings in Hungary. WELL standards gave the industry a compass to build human-centered offices. When people see the WELL seal on the entrance of the building, they feel confident knowing the space they're entering is putting their health first. We will continue to work for the benefit of people who are using our buildings and we aim to follow the highest standards within our projects." - said András Ábrahám, Project Director of Skanska's commercial development business unit in Hungary.
The building offers various amenities, including a welcoming and cozy Scandinavian lobby, as well as a cafe with connection to the spacious garden with plenty of greenery suitable for work and relaxation. The property features a passageway reachable also by bike while building users arriving on bicycles can leave their bikes in a safe storage and have a refreshing shower after commuting to work.
Beyond delivering an office building, Skanska contributed to the local community with an enlarged public green space and refurbished public areas around the building. Skanska also cooperated with a team of local artists and created a mural on the wall of the building, adding a unique and inspiring element to the placemaking. The building is friendly also with the people with special needs, creating a truly inclusive environment.
Nordic Light Trio has seven floors and offers 14 000 m2 total leasable area of class "A" office accommodation and a welcoming green public garden of 2 400 m2. Nordic Light Trio was chosen as the headquarters of a well-known pharmaceutical company, Roche Services (Europe) Ltd.