Press release
9/6/2021 9:00 AM CET
KANTIN restaurant service provider is the first tenant of Skanska's latest office development project H2Offices. According to the plans, the premium catering establishment will have 1,200 sqm area and will stand out from the conventional office building restaurants with its unique and sophisticated design, in addition to the quality of the food.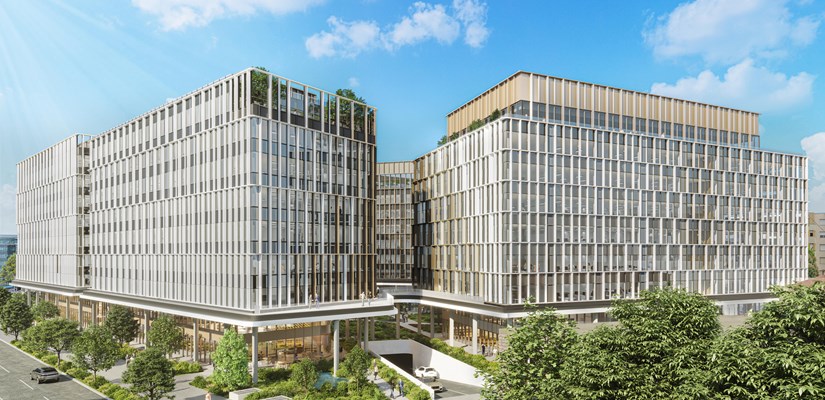 H2Offices project has its first tenant: the office building being developed by Skanska has been chosen as the location of the new high-quality catering establishment of the restaurant network operating under the KANTIN brand, which was launched in 2019. The 1,200 sqm establishment will be characterized by diverse menu, pleasant atmosphere and outstanding, unique design. The essence of the concept is to offer restaurant quality dishes from high standard ingredients, so that everybody would find a suitable solution, whether for an important business lunch, or just a simple, quick meal during lunch break. A wide range of healthy dishes, such as vegetarian and vegan plates will be available as well, all made from quality ingredients. Next to the restaurant there will be a traditional Greek taverna with à la carte offer, under the supervision of a Greek-Hungarian chef, which will also operate beyond the offices' operational hours. In addition, the restaurant operators in partnership with a specialty coffee operator, will open a coffee shop for those who may just would like to have a cup of coffee, a juice or some pastries.
As Amarilla Cseke, Leasing and Asset Manager of Skanska's commercial development business unit in Hungary, said: "We are very pleased that KANTIN is our first tenant, as their approach and principles of operation are very much in line with ours. Providing high quality and multiple healthy food options for the people working in H2Offices is an important aspect, and now we made a big step towards this goal. I'm sure that it will also be an added value for further tenants that such high-quality dining facilities are available in our office building."
The development of the first phase of H2Offices complex started in August 2020 on the former plot of Budapest Waterworks, the architectural design concept was created by the Danish Arrow Architects.
Traditional Scandinavian design principles and environmental consciousness will characterize the new building complex, focusing on the needs of users and in the same time being in harmony with nature. The development, aiming to obtain LEED and WELL certifications, as well as WELL Health & Safety Rating, will offer a large green garden with water feature, and a wide range of amenities and recreational opportunities for those working here.
Béla Szini and Attila Hegyi, the owners of KANTIN restaurant network with more than twenty years of experience, decided to choose H2Offices as location for their new restaurant: "Our restaurants await our guests with high quality, the best possible ingredients and attractive design. Simply said – we are offering bistro-style dining in the context of an office canteen. When we got introduced to the H2Offices building, we immediately fell in love with the design and the location of the building. We highly appreciated the teamwork and the commitment of the local team of Skanska to make this deal happen. It is rare to see a developer, who understands that a hospitality venue in an office environment needs a different approach from the owners, and we found our match here with Skanska and look forward to this venture." – emphasized Attila Hegyi.
The owners were supported in decision making by real estate advisors VLK Cresa. "The quality of offices and the wide range of services available in a building became very important tools in both recruitment and retention. New generations of employees are consciously considering, among other factors, what kind of dining options are available in the building and in the surroundings. High quality restaurants as KANTIN are more and more popular and it is essential that this area is also given special attention when leasing office premises. We are proud to exclusively represent the KANTIN brand in the Budapest market, as we truly believe their concept is unique, different and represents great value for owners and developers. We wish both Skanska and the KANTIN team a successful co-operation going forward" said György Losonci, retail expert of VLK Cresa.
H2Offices complex will offer a total of 67,000 square meters of leasable area. The first building will have eight levels above ground floor with three underground parking levels. The general design works are carried out by Studio IN-EX, and the landscape design is created by Lépték-Terv.