Press release
4/22/2021 4:40 PM CET
The company's H2Offices project received WELL v2 Core & Shell pre-certification
The International WELL Building Institute (IWBI), the global organization responsible for the certification of healthy, human-centered office spaces, has awarded the first phase of H2Offices complex with WELL v2 Core & Shell pre-certification. The project is on course to reach Platinum, the highest achievable level of the standard.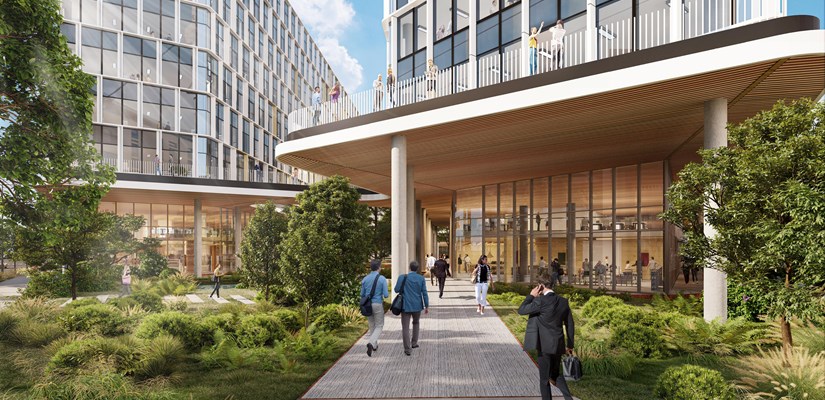 As proof of having the well-being of building occupiers in mind, H2Offices, the newest development of Skanska in Budapest has received WELL Core & Shell pre-certification. The standard, created by the International WELL Building Institute (IWBI) certifies if a building is providing healthy and human-centered features for the people using it. Buildings constructed in accordance with WELL principles are especially beneficial now, when we need to take care of our health and safety even more than before the pandemic.
H2Offices will be constructed with the outmost attention to create a healthy environment for people. The air quality within the building will be ensured with increased fresh air supply, monitoring and demand-controlled ventilation. Healthy level of humidity will be maintained in the rooms, which impede the spread of viruses and bacteria. H2Offices is designed to maximize daylight access and minimize glare while LED fixtures provide efficient and high-quality light for building users. The multifunctional garden and the green terraces will support people to relax and recharge during the day. Bicycle storage, changing rooms and showers, as well as a rooftop running track will encourage recreation and healthy lifestyle. The office complex will promote good hygiene practices, and touchless technologies will play a significant role in increasing user safety when moving around in the building.
"The pre-certification for H2Offices is another success confirming that Skanska sets a high standard in terms of office space quality. Future users can be sure that their needs, their physical and mental health were considered during the design of the project. We aim to make our public community spaces even more refreshing and welcoming, creating water ponds and even a dedicated gardening space for the tenants to grow edible herbs. All these and many more in the name of wellbeing" ‒ said András Schmidt, Environmental Manager of Skanska's commercial development business unit in Hungary.
H2Offices is a complex of three office buildings that will provide about 67,000 sqm of modern office space in total. Located in the most popular office hub Váci Corridor, H2Offices will offer a green environment at one of the busiest points of Budapest. The construction works started in August 2020 and the first phase of the complex is expected to be handed over in the fourth quarter of 2022.
In the meantime, you can discover the office complex in a safe and sustainable way through Skanska's new application! All information, visualizations, floorplans, sustainability, technical and safety features of the project are just a few taps away. The new platform is available on iOS or Android systems.