Press release
12/21/2020 9:30 AM CET
Nordic Light Trio has received LEED Gold Green Building Certification. Being the fifth project developed by Skanska's commercial development business unit in Hungary recognized with such an environmental certificate, this confirms the company's continuous commitment towards sustainable development, as their projects are built in accordance with such principles and with greatest focus on the comfort of building users. The project has also been granted with Access4you Gold certification. The acknowledgments show that the third and final phase of the Nordic Light office complex brings numerous green solutions and creates an environment with accessible design within the most popular office spot of Budapest.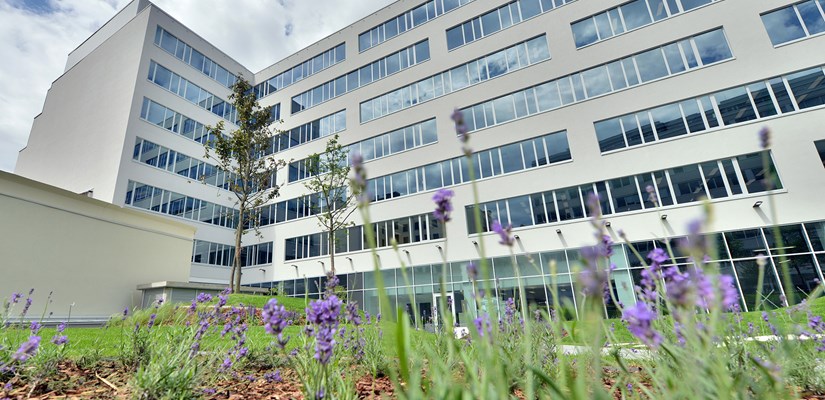 Skanska's latest development in Hungary, Nordic Light Trio achieved LEED Gold Core & Shell version 4 certification for implementing sustainable site development, water savings, energy efficiency, materials selection and indoor environmental quality. Due to extensive ventilation, building users are provided with 30% more fresh air than required by local regulations. Thanks to applied solutions and LED lighting installed within common spaces, energy consumption of the building is more efficient. Nordic Light Trio saves 40% of potable water, due to the water management designed to reduce water consumption. Rain and soil water is used for irrigation. The project is also distinguished by a lower emission of carbon dioxide. The philosophy behind LEED is to see buildings as living organisms. Modern office buildings, like Nordic Light Trio, are a collection of systems working together in order to support the building to perform.
"We created a welcoming green public garden in the heart of the building to the delight for both building users and residents of the neighborhood. Tenants can benefit both from cost-effectiveness and sustainable solutions of Nordic Light Trio. We at Skanska have an ambitious goal to build offices with zero carbon footprint both during construction and operation by 2045. This may seem overly aspiring, but the results are promising and we work every day to make this huge progress happen" - said András Schmidt, Sustainovation Manager of Skanska's commercial development business unit in Hungary.
In addition to environmental solutions, accessibility is also an essential element and vital feature of the project. People with special needs represent 15% of society and can be considered the largest minority group in the world. Skanska created a truly inclusive environment in Nordic Light Trio, and received Gold certification from Acces4you. In addition to the basic accessibility features like solid and even sidewalks, sufficiently wide doors, and necessary signage, the building provides specific services for disabled people in order to facilitate their use of the building. For hearing impaired visitors, a tablet at the reception is available for sign language assistance, and an induction loop system is also installed at the lobby. This tool assures info-communication accessibility by transmitting the sound to hearing aid through a magnetic field in order to eliminate background noise, interference or acoustic distortion. Universal design gives a sense of freedom for all people when they move throughout the building. The gold level certification shows that the building supports the diverse workforce to fulfill their potential.
Skanska pays close attention to reduce the environmental impact and increase the accessibility of their office buildings. With H2Offices, the recently started project of Skanska, their goal is to continue setting a higher standard in green office development and helping tenants to provide equal working opportunities.