Press release
7/19/2019 10:00 AM CET
Skanska has sold its Nordic Light Trio office building in Budapest to JR AMC, a South Korean real estate investment trust. This is not only the buyer's first acquisition with Skanska, but it is also its first office investment in the CEE region after transactions in Vienna, Dublin and Paris.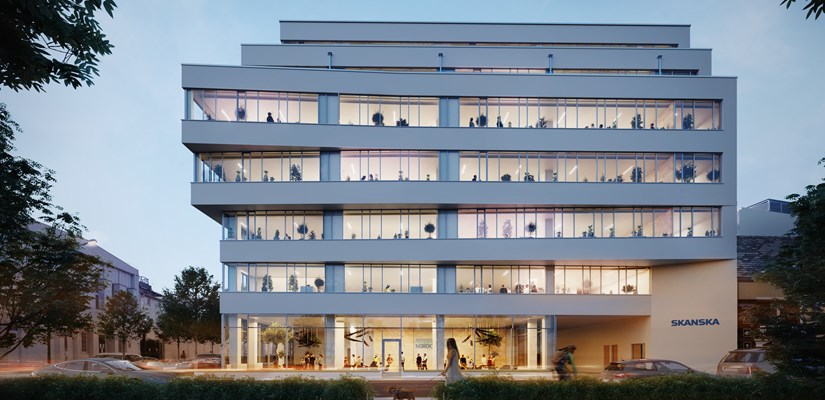 Nordic Light Trio is located on the Pest side of the river Danube. It comprises a total leasable area of approximately 14,000 square meters and 221 parking spaces. 98% of space within the building is already leased, the anchor being a multinational healthcare company.
"Nordic Light Trio is Skanska's commercial development business unit in CEE second transaction with an Asian investor, but its first with a South Korean buyer. This is further proof that Asian investors have a positive sentiment towards Europe and actively search for new investment opportunities on our continent. On the one hand, they find CEE countries attractive thanks to the political and economic stability that they offer, which is additionally guaranteed by being part of the European Union. And on the other, prospects for the region are also promising with return on investment being higher than in Western Europe. Asian investors are mostly interested in A-class properties developed by institutional developers, and Skanska is many times a first choice for all the newcomers" – said Adrian Karczewicz, Head of Divestments at Skanska commercial development business unit in the CEE.
"A futureproof office building, almost 100% pre-leased and divested one year before completion is what I call a successful project and it is merely the result of Skanska team's commitment and engagement. Nordic Light Trio will be our first project in Hungary to be WELL certified and a lot of efforts were focused on sustainable solutions and innovations, having at their heart the future residents of our building. I am very proud that Nordic Light Trio attracted the attention of JR AMC and it became the first asset they acquired in Hungary. I would like to thank JR AMC for a very good and efficient collaboration on this transaction." adds Marcin Łapiński, Managing Director of Skanska Property Hungary.
According to a report by Colliers, Asian investment capital is beginning to spread widely, also in Europe. Investors are not just interested in Western European markets, but also in other locations such as the CEE. The region attracts Asian investors with favorable yield premiums and higher returns on investments. Between 2017 – 2018, the inflow of Asian capital investment into the CEE-6 amounted to approx. EUR 2.6 bn, focused mostly on the industrial, retail and office sectors[1].
"We, JR AMC, are very happy to sign Nordic Light Trio with Skanska. We were especially impressed with the level of professionalism and diligence Skanska exhibited throughout the whole process – needless to say, the high quality of the construction. With yields in Western Europe breaking historic records, our interest is to constantly explore new markets whereby we can achieve high yields, simultaneously minimizing any trade-off in building quality or macro risk profile. In such sense, we strongly believe the CEE market is in favour of any other market. In the case of Budapest, Hungary, we have been following the market for the past year and a half with high interest. Considering both macro/micro economic figures and also the trend of the real estate market in Hungary, we are convinced of the significant potential for further growth and establishment. As in any other new market one is entering, we evaluate highly the importance of working with a reputable and credible business partner – this was, of course, a very easy decision for us with Skanska" – said Hyon Suk Jang, Executive Managing Director of Foreign Investment at JR AMC.
Being delivered in the second quarter of 2020, Nordic Light Trio is a part of the already completed and highly successful Nordic Light office complex located in Váci Corridor, the most popular office hub and new CBD of the Hungarian capital Budapest. Easily accessible from all directions, both by public and private transportation, downtown Pest and Buda are both just 10-15 minute drives away. The neighborhood has access to a wide range of services including restaurants, shops and fitness facilities. The area around the Nordic Light complex will offer 2,400 square meters of landscaped multi-activity gardens open to tenants and neighboring communities, bicycle storage facilities with changing rooms and showers, as well as parking with charging stations adapted for electric vehicles.
Nordic Light Trio, designed by Paulinyi-Reith & Partners, is a seven-story A-class office project that will offer futureproof workplaces fully-adapted to the needs and requirements of tenants, keeping their best well-being in mind. With a specially-designed office environment that will work towards enhancing the health and wellness of those working in it, Nordic Light Trio will be the first WELL-certified Skanska building in Hungary. In line with the company's Scandinavian heritage, Nordic Light Trio's lobby will feature a warm, welcoming atmosphere where people can connect with each other and spend quality time together.
The building will be equipped with an innovative integrated building operating system – Connected by Skanska – which will facilitate daily office management. The system will enable users to move around the building using their smartphone instead of traditional access cards. It will also allow them to prepare virtual invitations for guests and reserve parking spaces. The building will feature a parking system that will recognize license plates and allocate available spaces. Additionally, tenants and building managers will have access to a special web portal which will enable them to view data concerning the building's functioning.
Thanks to the modern sustainable solutions that it employs, an approach to minimizing its environmental footprint and also the fact that it has a positive influence on the health and wellbeing of tenants, Nordic Light Trio is aiming to achieve LEED Gold and WELL certifications.
[1] Source: Asian investmemt in CEE report by Colliers
http://www.colliers.com/-/media/files/emea/emea/research/cee/colliers_cee_mipim_asianinvestment.pdf?la=en-GB