Press release
6/23/2015 5:31 PM CET
The cornerstone ceremony for Nordic Light, Skanska Property Hungary's 7th office building in Budapest, was held on April 2nd. Located conveniently on inner Váci Road, Nordic Light is to become one of the most prestigious new office buildings in the capital of Hungary.
CBRE was appointed as the exclusive letting agent of Nordic Light office building.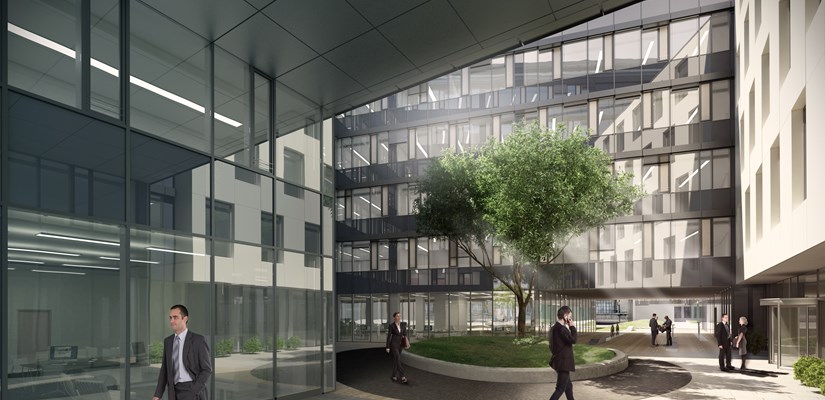 During the cornerstone ceremony, the building's foundation act was signed by His Excellency Niclas Trouvé – Ambassador of Sweden to Hungary –, Mr. György Arató – Chief Architect of the 13th district –, Dr. Gergely Paulinyi, DLA – President and CEO of Mérték Group Zrt.-, Mr. Zoltán Linczmayer – Managing Director of Skanska Property Hungary – and Richard Burleigh, President of Skanska Construction Romania.
Based on its vision of today's choice of new office accommodation and its role in corporate social responsibility, Skanska Property Hungary planned Nordic Light to be an 'A' class office complex, developed in line with the green building principles. The building will have a total leasable space of around 26,200 sqm and will be built in two phases. The first building consists of 6,600 square meters of modern office space, while the second phase will provide offices on 19,600 square meters. Tenants will be able to use a three-level underground car park with 404 parking spaces, as well as bicycle racks with showers and changing rooms, fitted for cyclists' convenience. The 8-storey building will be equipped with modern sustainable solutions providing optimal indoor environment quality combined with high cost-efficiency.
The building has been pre-certified in the LEED system with a Gold rating,
"Nordic Light is situated on Váci corridor, one of the most sought-after office locations of the city, and offers great visibility to our tenants. The technologies applied in this building represent our commitment to the energy-efficient, environmental friendly and healthy office spaces Skanska is famous for. With the design of the building, our aim was to create a workplace where people love to spend their time", Zoltán Linczmayer, Managing Director of Skanska Property Hungary commented.
Currently, the superstructure of Phase I of the project is being developed and construction works of the underground levels of Phase II are also ongoing.
The architecture of the Nordic Light project comes from the Mérték Group, while Skanska Construction Hungary is the general contractor and Skanska Property Hungary in charge of its commercialization.
Skanska believes in developing a greener society and that by building green they do not just provide service to the customers, but just as much to the environment. With this vision, the company has been at the forefront of the office development market for many years of its Hungarian and worldwide operations. The Nordic Light development will be another prime example of how a building can be built with care for sustainability and be the heart of tenants' business and an enjoyable place at the same time.